We are delighted to share this news with you!
The Society for Multiple Sclerosis Patients in Pakistan (SMSPP) blog ranks among the 'Top 50 Multiple Sclerosis Blogs & Websites on the Web.' This list of MS related websites and blogs has been compiled by Feedspot. You can find the list of Top 50 Multiple Sclerosis Blogs and Websites for MS Patients and Caregivers at Feedspot. So if you want knowledge and information about MS on the internet, then the list briefs you where to go.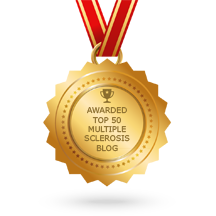 Most Encouraging Aspect
There is a lot for the nation to rejoice than for us alone. The blog is the only Pakistani blog where reliable information about Multiple Sclerosis is available. In addition, SMSPP is the only blog in the entire South Asia to have won a placement in the list!
Society for Multiple Sclerosis Patients in Pakistan
SMSPP blog is the official blog of the Society for Multiple Sclerosis Patients in Pakistan. The blog's objective is to create awareness about MS among the general population of Pakistan and to help MS patients better understand Multiple Sclerosis and cope with this disease.
The blog not only posts articles which spread awareness about the disease among Pakistani people, but also discusses the problems they face in the country. SMSPP blog also offers tips and natural remedies for MS patients.
Here are the top ten blogs and what makes them different and special:
MultipleSclerosis.net
URL: https://multiplesclerosis.net
The objective behind MultipleSclerosis.net is to empower patients and caregivers to take control of MS. They wish to achieve their goals by providing a platform to learn, educate, and connect with peers and healthcare professionals. MultipleSclerosis.net allows you to share your experience and seek answers from other patients who have faced similar challenges.
Blog Uniqueness: MS daily blog for experts and community.
Multiple Sclerosis News Today
URL: https://multiplesclerosisnewstoday.com
This is the best online place to be if you want to stay updated about comprehensive daily news coverage of MS. You'll also get informed about approved therapies and new medications and developments to treat MS. You will also find articles intended to provide information about different aspects of the disease.
Blog Uniqueness: The only online digital publication that seeks to cover the entirely of multiple sclerosis-related science and research news in a 24-hour news cycle format for MS patients and their families.
Overcoming Multiple Sclerosis
Overcoming Multiple Sclerosis (OMS) offers a recovery program by Professor George Jelinek, who himself has been an MS patient since 1999. The program is an integration of diet and lifestyle changes into standard medical management. OMS also provides information about the disease on their blog. In addition, people can seek answers to questions on their forums.
Blog Uniqueness: The blog offers a comprehensive medical management program.
MSConnection Blog
URL: https://www.msconnection.org/Blog
MSConnection is a blog from the National Multiple Sclerosis Society (NMSS). The organization sees and works for a world free of MS. NMSS's efforts are focused on providing a better living for MS patients. MS patients share their good and bad experiences on the blog and offer solutions to problems and difficulties faced by MS patients.
Blog Uniqueness: You would want to visit this blog to understand how a person can feel blessed with multiple sclerosis.
MSLISASAYS | Multiple Sclerosis Blog
URL: http://www.mslisasays.com
One inspiring thing about Multiple Sclerosis is its patients' willingness to share their experiences and help those who experience similar sufferings. MSLisaSays is Lisa Dasis' personal blog. She shares the latest in news and health information about Multiple Sclerosis. She strictly negates the notion that the blog is not medical advice, but it is informational only.
Blog Uniqueness: You can find helpful information about latest findings in medicine, health care for MSers and other health topics at MSLisaSays.
MS Society of Canada
URL: https://blog.mssociety.ca
They are the leader in Canada in finding a cure for MS and improving the quality of life for those affected. The blog advocates to always Live Strong with MS, to never give up and to take action to improve life with MS.
Blog Uniqueness: This blog is one of the best to elevate morale in MS patients and encourage them.
Multiple Sclerosis Trust
URL: https://www.mstrust.org.uk/news/views-and-comment
The blog focuses on providing information to people affected by multiple sclerosis, funding for practical research education programs for health professionals, and campaigning for specialist multiple sclerosis services.
Blog Uniqueness: Multiple Sclerosis Trust is the only blog in the list, so far, which lets you donate for research.
Healthline News
URL: http://www.healthline.com/health-news
Healthline is one the most popular blogs on information about MS among those who suffer from the disease. They're committed to bring expert health guidance to people. Along with information about the disease and advices to improve wellness, they give latest news on Multiple Sclerosis.
Blog Uniqueness: Healthline is not limited to Multiple Sclerosis; the blog also covers fitness and general wellness.
BartsMS Blog | Multiple-Sclerosis-Research
URL: http://multiple-sclerosis-research.blogspot.com
The objective of this Blog is to update its readers on the latest research in MS and new clinical trends in the field.
Blog Uniqueness: This is the only blog in the list, so far, dedicated to research in the field of MS.
Google News | Multiple Sclerosis
URL: https://news.google.com/news/…/multiple%20sclerosis
The website brings comprehensive up-to-date news coverage related to Multiple Sclerosis from around the world. In addition, Google News gives stories of people who are suffering from MS, but are courageous to fight it and succeed in life.
Some Other Names on the List:
Other worth mentioning names are:
ThisIsMS Multiple Sclerosis Community
URL: http://www.thisisms.com/forum/
MS Conversations |The Official Blog of the Multiple Sclerosis Association of America
BBHwithMS | Living With Multiple Sclerosis
URL: http://www.bbhwithms.com/
URL: https://trippingthroughtreacle.com
URL: http://www.anempoweredspirit.com/category/multiple-sclerosis
URL: http://www.wheelchairkamikaze.com
Subscribe to our Blog to stay up to date with latest posts!